So today is reveal day at Citrus Tree Studio for the July kit and it is awesome, but you will have to wait until tomorrow to see why... Today I thought I'd show you how I decided to alter my Kaiser Craft page stand that came in my DT kit using my July kit. Here is what my finished product looked like.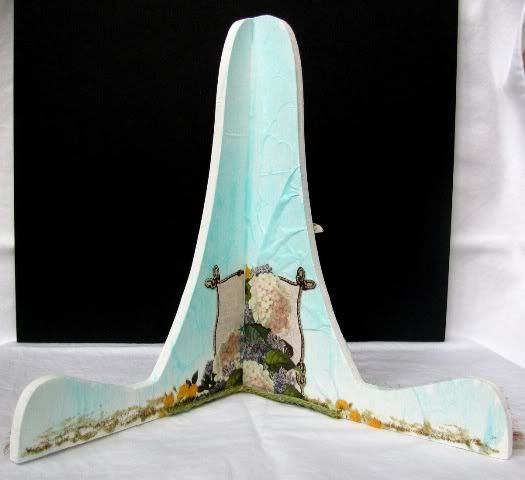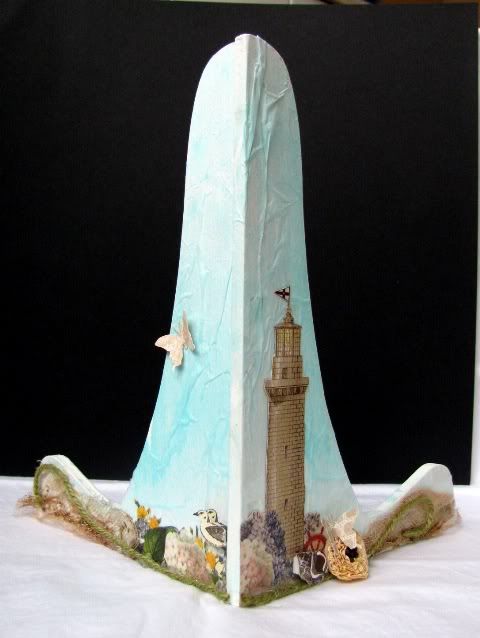 This is the product that I received, hmmm... Well, first I started using it to house my layouts when I would photograph them and I fell in love b/c the arms don't cover any of your layout, yea! But, what in the world do I do with this thing...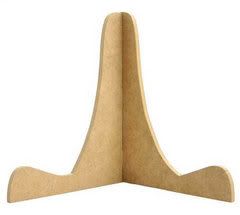 Then the ah-ha moment came (yes, of course in the middle of the night). I pulled out my trusty gesso and painted my stand with a base coat - figured I couldn't go wrong there. Next, I had the inspiration to pull some tissue paper out of my stash and spray it with my absolute favorite item, Tattered Angels Glimmer Mist in Patina. (Did you know that you are supposed to roll it in your hands - kinda like you would with 2 sticks trying to start a fire - I didn't, but it works wonders!)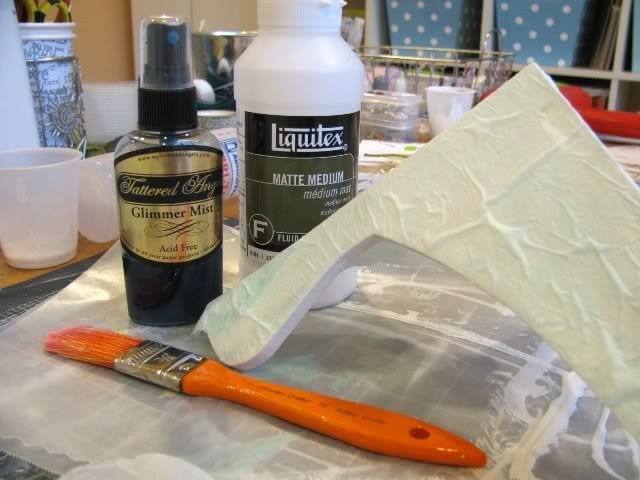 After I let the tissue paper dry, I next applied a coat of gel medium to my stand (just one section at a time).
I wanted a water look so I made sure to leave some wrinkles in the tissue paper - believe me that wasn't hard! :)
Next, I ripped off the excess - carefully. I'm sure you could wait for it to dry, but I was impatient and on a roll so I ripped wet.
And now I had a wonderfully covered page stand with some beautiful texture and color (which I forgot to take a picture of!). Thanks to my daughter for taking pictures of my project - she thought I was nuts I do believe!
Here are some more shots of the finished product which I finished altering with the July Citrus Tree Studio kit - Webster's Pages, cheesecloth sprayed with Wheatfield Glimmer Mist, and some Distress Stickles in antique linen and frayed burlap for a touch of sand.