Imaginesce has a wonderful sketch on their blog for the month of August - after running to my Michael's to find a few pieces of paper this is what I created...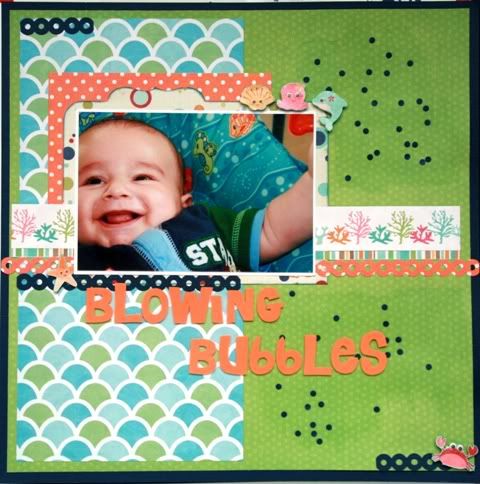 Materials used: Imaginesce pp, cordination cardstock, EK Success border punch, and American Craft Thickers.
I love these pictures of Gino even though it took every trick in the book to get them! He won't smile when he sees the camera so I had to make sure my face was showing to get a smile, this made for some interestingly framed pictures! Thanks to April Foster for the tutorial on the confetti look which I used for bubbles,
Studio Calico 7/27 entry
.
And now onto the winner of the giveaway is...
Sherri said...
My favorite color is purple. Thank goodness I have a new grandbaby and can use the color now. Previously I had two boys to scrap.
August 3, 2011 1:21 PM
Please e-mail me (
antenucci@juno.com
) your address and I will get your goodies out to you!
Thanks all for checking out my blog - I love getting comments!