I have something great to share, but for now I have to keep it hush, hush. While I am keeping my secret (and hoping for a few others to come true) I have some Lily Bee projects to share with you.
My sister just had a little girl on Saturday and when I saw this picture that she posted on FB I knew I wanted to scrap it right away. So here is my new little niece, Savannah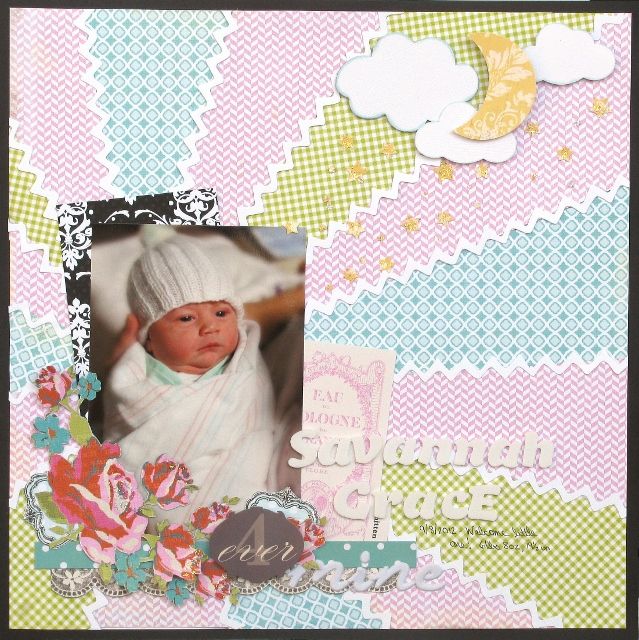 Materials Used: Lily Bee, Stickles, American Crafts, Martha Stewart, Teresa Collins, EK Success
Lily Bee also issued a challenge to scrap with patriotic colors in remembrance of 9/11. When I saw this picture of my youngest and how he was completely at peace, how he has no fear because he knows he is loved, I felt that this was an appropriate way to express my thoughts of 9/11.
And then another Lily Bee challenge to document a then and now picture. My boys were a wonderful reminder of how quickly little ones change! The first picture was last Novemeber for our family photo shoot and the small picture took place in May/June as Vinny taught Gino how to drink from a cup.

I have been admiring all of the neat things that everyone is doing with their Cameos but as of right now mine is only a dream, but I do have a Cricut. So, I finally decided I was not going to let this cool trend pass me by so with a little help from my Plantin cartridge and Cricut Craft Room I finally took part in this trend and cut out my title, for you! I was so pleased with myself (course I wish the words were closer, but that will have to happen next time) and am totally dreaming up my next project to use my Cricut with (until my Cameo shows up).