It has been a long time since I've been able to say that about our life, but I can finally say I look forward to getting up in the morning. We've had a lot of changes in our life over the past month - and they didn't come easily to put it mildly; anything that could go wrong has, but things are finally leveling out.
One of the changes in our life is a move from SW VA to Florida! Yep, quite a switch and it all occurred in about 2 weeks time. I never thought about moving to FL, I mean they have alligators, humidity and heat, but instead I feel like I am a brand new person, totally set free to fly.
Kids and I are enjoying the playground and pool in the neighborhood we live in, we've gone out once a week to shop (yep, I'm driving again) and enjoying the new take on life we have. We are in a smaller home so a lot of our stuff had to go (or is waiting to go in the garage), which is hard, but when you get adjusted with things you really do want and need in place it is a very freeing feeling.
Here are some layouts I created using this new minimal approach in scrapbooking. I made these when we first arrived - I had my kit, some inks, my masks, trimmer, adhesive and dies (no clue why they showed up first) and I found that creating takes on a whole new appeal - I just created and enjoyed the process with nothing cluttering that up.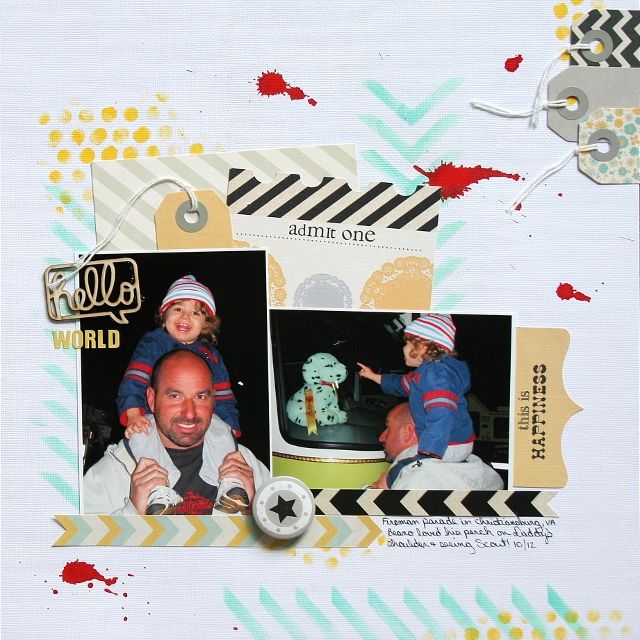 The next layout is made for a challenge I issued at
Memorable Seasons
to use an old fashioned crankin die cutter machine - my Big Shot arrived first on the table I set up to scrap with so I pulled out some of my Cuttlebug dies and went for it and I love it!
Here is another layout I created with my May kit - Fancy Pants Park Bench, I wanted to use the group of stickers I received and I love to fussy cut pieces from my papers. I actually assembled the layout before looking for a picture, when I saw this picture my daughter took of herself with my phone and edited I knew it was perfect.
Thanks for stopping by, we are off to Disney World tomorrow another perk of living in FL and can't wait!