This is our last week of our Throwdown competition - it has been so much fun creating with all the different recipes! This last recipe I picked is not a glamorous one, but it sure tastes good in the winter.

We are making stew this week!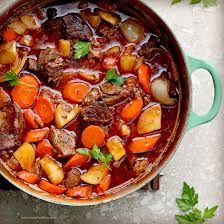 All stew recipes are made up of 3 parts:
1. Something recycled - usually I throw some leftover meat in the pot when I am making stew and because everything is mixed together you never know!
2. Shapes - There are a lot of shapes in a stew pot, rectangles from the meat, round potato pieces, cylinders with celery, and the list goes on...
3. Layers - stew turns out differently each time because I am always adding different items in, whatever I have, but in turn the taste varies somewhat each time.
I created this layout with a bag from this cool sandwich shop (recycled), I have potatoes and onions (circles and pieces of circles), and I have many layers of flavors with my different patterned papers layered on top of each other affecting the flavor, but not the main feature.

Hope you come on over to Memorable Seasons to join in, we'd love to see what you can make out of stew!