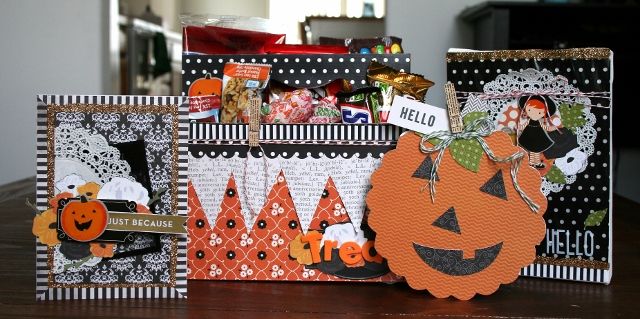 Welcome back friends!
I was assigned the collection Thirty-One for this month's projects, but this created a problem for me because we don't celebrate Halloween. So, what did I do? I created to my hearts content with this collection, but I looked at things with different eyes!
I was so excited about how the bag worked for my Girl canvas, I had the idea to use another bag on a layout about me and what I am enjoying/doing right now...
I used the bag as the block for my pictures and then I slid some of my favorites right now into the bag to document where I am at. I fussy cut pieces from the chevron design paper to give my layout movement. The schedule paper was a perfect page to show that this is my everyday. We grow together was the perfect sentiment because my hubby walks with me each morning and night and we take our 2 month old along who is growing really fast!
Thanks for joining me as I look at non-traditional ways to use Halloween collections!
Supply List:
Thirty-One
Echanted (732299)
6x6 Paper Pad (732339)
Phrase & Accent stickers (732304)
Printed Bags (732308)
From Me to You
Phrase & Accent stickers (732272)
Memo (732257)
Front Porch
Phrase stickers (732328)
Welcome (732315)
Twine (89423)
Glitter Dots (744245)
Basic Thickers - Ash (732162)
Basic Clothes Pins (747205)