Pocket pages, Project Life, Documenting Life no matter what you choose to call it I have decided I am hooked! I started PL in August when our 6th child was born. I decided to keep my spreads to one page so that I wouldn't become overwhelmed finding material to document. Sometimes I choose to do 2 page spreads such as my pages documenting Easter that you all saw on NSD. I really appreciated all the comments you left about that spread you really gave me confidence in my PL skills!
I also wondered when I started PL if it would take away from my scrapping time (precious as that is), but what I've found is it allows me to get all the moments documented and then I have plenty of time to just have fun when I layout scrap. I don't have to scrap everything now because it is already documented and so my layouts have become more about emotions/thoughts then actual events which gives me more freedom!
So here are some new pages using Teresa Collins products and We R Memory Keepers album pages.
My next pages document my year at 36, life has been pretty crazy over the past year and I wanted to get everything down that influenced me this year before I turn 37.
REMOVED FOR PUBLICATION
and some detail shots...
I wanted to add some catchy bling to my layout so...
1. I grabbed a Crate Paper frame, gold glitter, and xyron double sided tape from my Teresa Collins adhesive kit.
2. Line the frame with the double sided tape.
3. Sprinkle glitter.
4. Be amazed at your sparkly brainstorm, lol!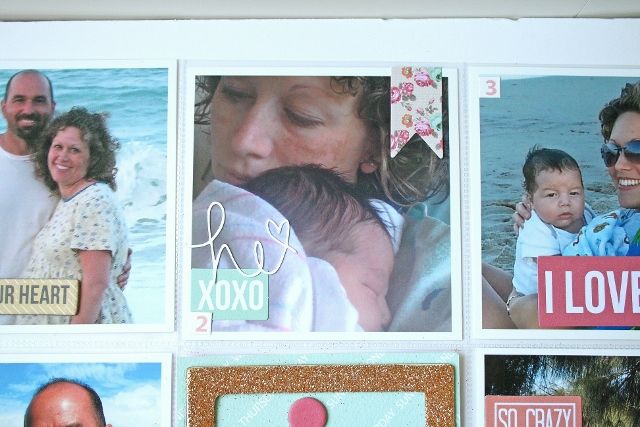 Here is a look at this past week, week 39 for me...
and the details...
Modeling paste makes for a great title piece with little dimension. My "stencil" came from fussy cutting the word from one of the 3x4 cards.
And how about some "sand"? I created a pocket using the packaging from the Daily Stories package. I poured sequins into the pouch and then sewed the sides a little closer in to fit on my picture.
I really enjoyed thinking out of the box on my pages and just having fun documenting our life. It is important to me to get the daily days down in our books because life is just going to fast. As a SAHM and homeschooler sometimes I can get buried in the grind of daily life, but I realize how blessed I am when I take some time to really look at all the good that occurs each week in our lives.
And to leave you with a layout that kind of just fell together with the pieces that were on my desk...
I'm not sure if it will be the preceding page for week 39 or go into Rocky's book, but either way I couldn't resist using the rest of my pictures that I had printed.