Last week we went away overnight - not a big thing, but still extremely nice! We headed to a hotel in NC that we had stayed previously and loved. Our big adventure included a dip in their pool, shopping at the BIG mall, dinner out and then I got to shop the next day at CKC.
Here is a few of our pictures of the pool part - this is the first time we've gone away with 7 of us and even more so, in the pool! You can see Mike and I were a little loaded down trying to keep everyone's head above water! Gino loved the water, but not so much the splashing. Vinny is totally into anything. Marc wasn't good with the swimming thing (his little body was shaking so much from cold) until he realized that he fit in the baby float and then he was king of the pool.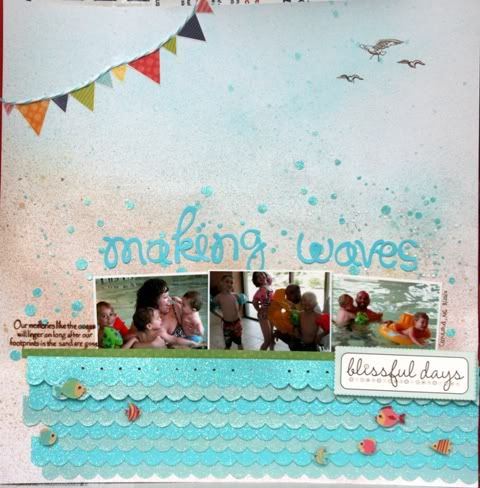 Materials used: Martha Stewart & EK Success border punch, Imaginesce pp, Doodlebug sugar coated cardstock and stickers, Echo park stickers, Tattered Angels glimmer mist
Most would look at this as a non-vacation, but for us it was an answer to many prayers to be able to go away and enjoy the moment. I love this quote from Crafty Secrets that I stamped on my layout, "Our memories like the ocean will linger on long after our footprints in the sand are gone." We made waves and we made memories and that is what matters!