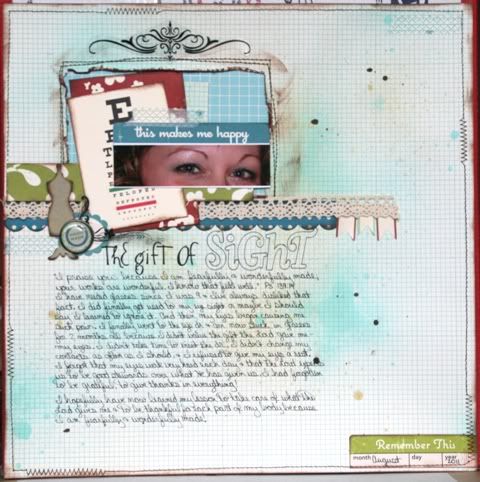 Materials used: October Afternoon, Tattered Angels glimmer mist, MM rub-ons, Maya Rd chipboard, Hambly washi tape and overlay, lace from stash
I issued the challenge at Scrapping Everyday Miracles today. My challenge is for you to first off, consider yourself a miracle - perfectly crafted by the Creator. Then I would like you to create a layout/project that celebrates YOU!
Scrapping twist: You must use a picture of yourself (it can be the whole you or just a part) and make sure to include some handwritten journaling to celebrate that gift also!
I was hoping to share my journaling, but I left my layout elsewhere and I can't read it here online! LOL So, I will hopefully be back to share with you, but if you would like to join in and have a chance at an awesome prize come on over to
Scrapping Everyday Miracles
.
Journaling reads: "I praise you because I am fearfully and wonderfully made, your works are wonderful, I know that full well." Ps 139:14
I have needed glasses since I was 9 and I've always disliked that fact. I did finally get used to my eye sight or maybe I should say I learned to ignore it. And then my eyes began causing me such pain. I finally went to the eye dr and am now stuck in glasses for 2 months all because I didn't value the gift the Lord gave me - my eyes. I didn't take time to visit the dr, I didn't change my contacts as often as I should, and I refused to give my eyes a rest. I forgot that my eyes work very hard each day and that the Lord expects us to be good stewards over what He has given us, I had forgotten to be grateful, to give thanks in everything!
I hopefully have now learned my lesson to take care of what the Lord gives me and to be thankful for each part of my body because I am fearfully and wonderfully made!
The Paper Issues blog hop is done and my prize winner will be announced shortly.