I'd like to invite you to jump on over to Shimelle's blog for a guest post from me called, Ideas on how to use PL cards, even if you don't have a life! I will also be showing extra projects here on my blog for the next few days showing you my fool proof plan on using up all those pretty cards that I just had to purchase.
So, here are some ideas on how to use those gorgeous cards even if you don't have a life!
1. Journaling on your scrap pages - The PL cards that are out there might be made for pocket scrapbooking, but they are wonderful to use to journal on your pages (or for title purposes).
2. Papers on a scrap page - Why would I cut up a perfectly good piece of 12x12 paper when instead I can layer these adorable PL cards and create a quick and easy page that fits my Simple yet layered style? I am hooked!
3. Projects - These cards are perfect for embellishing notebooks and a variety of othe projects!
4. Cards - I love using the 4x6 PL cards to make cards because again, I don't have to use up my 12x12 sheets of paper. (I am beginning to think I might be a hoarder!)
5. Traditional Project Life - I finally decided that I would break down and buy some of the PL sets, I figured I could use them in a variety of ways and just maybe I would begin to document our everyday life! I started documenting our lives when our little boy was born August 2013 and so far, I am enjoying it. I only use one page and I'm not very specific about the dates so that some weeks might really be 2 weeks in one.
This is week 4 of our little Rocky's life - these pictures came from one day, but it sumerized our whole week. Its okay to just spotlight one day!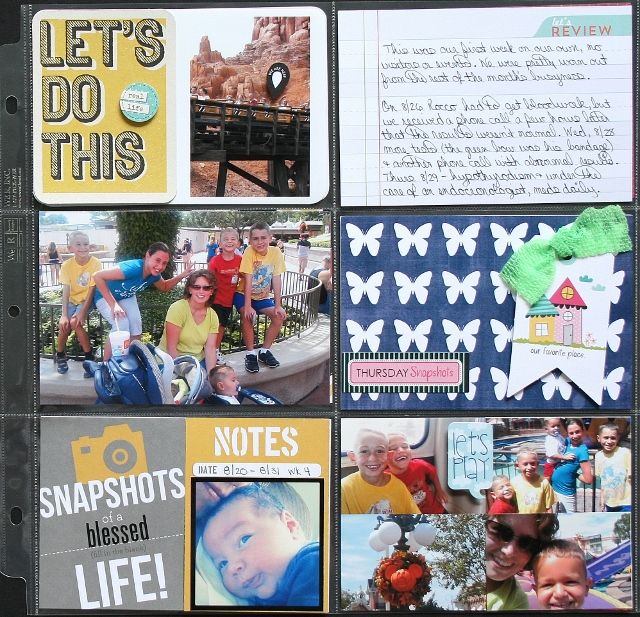 Week 6 only had a few standout moments, Sunday afternoon at the beach, dinner at a new favorite restaurant, and first smiles.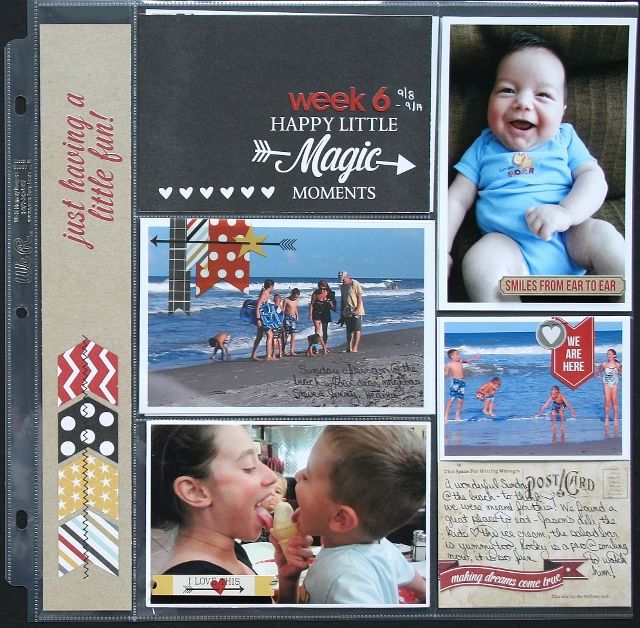 Week 7 - family time, love of technology, and a new habit, walking.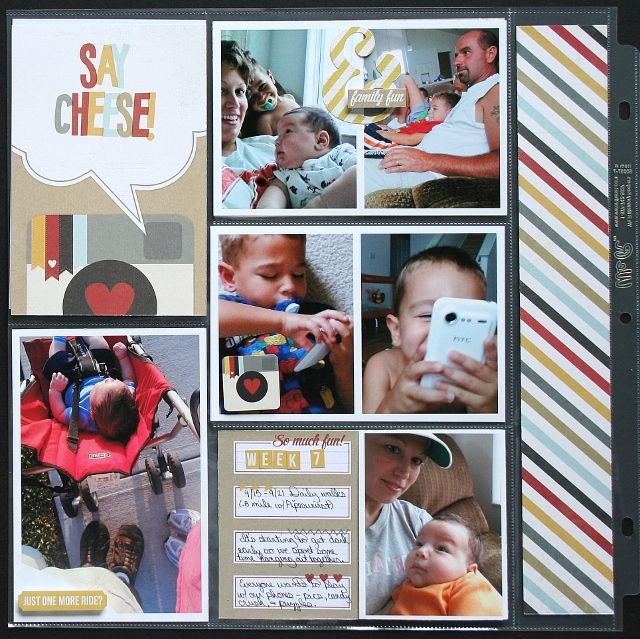 To me I needed to know that purchasing the Project Life items would be cost efficent and not just a purchase sitting in my closet waiting for my next box of donations to go out. Needless to say, I am hooked! Thanks so much
Shimelle
for having me, it has been an honor!
To thank you all for joining me in this series of blog posts, like me on my facebook and then leave a comment here on this post for a chance to win some PL goodies, this giveaway will end Friday.