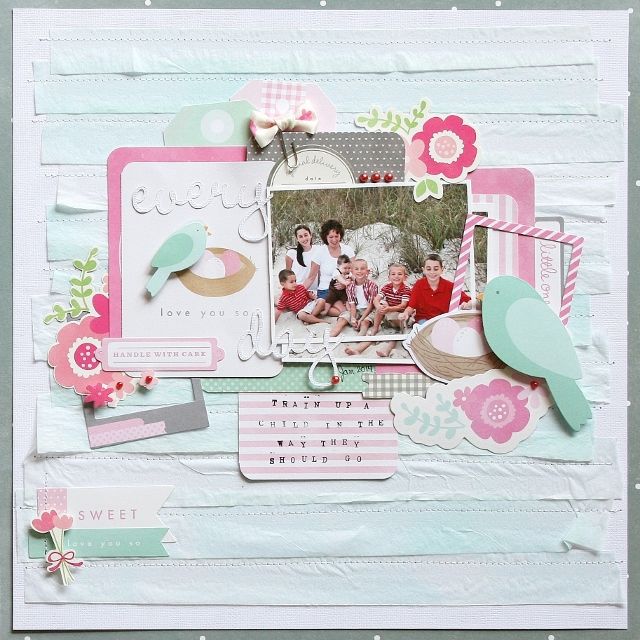 I love to use collections in ways that they aren't intended for - actually I consider it a challenge to see how far I can stretch my supplies! So, I took the challenge and instead of documenting my children as babies I chose to document myself and my job as a mom of 6 with the newest collection from Pebbles, Special Delivery.
I loved the grey and pink papers in the Special Delivery collection and I also love journal cards, so I began by cutting my favorite papers into 3x4 cards. I played around with the placement until the cards looked pleasing to my eye. I have learned that even though the colors didn't come from my picture, as long as there enough neutrals involved in the layout, you can play with most any color combos - and I wanted to play with pinks for me!
Once my 3x4 cards were assembled I added in the frames, flowers, and tags layering to achieve dimension and interest. Even though this wasn't a baby layout I wanted to give a soft feel to the layout so I took strips of misted tissue paper and sewed them to my white cardstock giving a baby blanket feel to the layout.
The handle with care die-cut became my title with the addition of a cut from the Silhouette store with the word everyday. I wanted to focus on my job as a mother and so I used the roller stamp to stamp my mission (and Bible verse) onto the striped pink card.
I have another Special Delivery layout on the
Pebbles blog
, using the collection in a more traditional manner, hope to see you there!