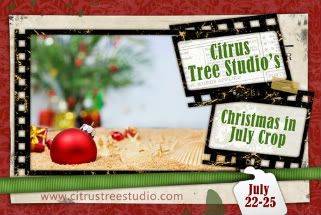 Citrus Tree Studio
is having Christmas this weekend and I am totally into starting now. I love Christmas - and all the possible projects there are. My hot glue gun is already smoking with all the projects I tested before deciding on my challenges. Here are some sneaks:
A button tree canvas and some ornaments.
I hope you can join us, I will post the finished projects and a step by step sometime this weekend too.
So anyway, since I was looking at ALL my beautiful Christmas paper some by Imaginisce caught my eye, 2 whole pieces in all my whole paper stash - pretty low and time to refill. So while I was on their blog I saw this great sketch and so I decided to use up my stash totally and create this
I added in a few Prima flowers and some cork (my new favorite), some colorbox ink, my EK border punch, star sizzlet die and my very old but trusty Quickutz alpha dies. I'm totall loving making flowers anymore (2 are in this layout). And I'm so happy that I've unearthed my die cut machine - so many fun things I am learning to do with it!
I've got to run, kids are napping so I am supposed to be working on my to do list right now. I've got to finish up getting our homeschool paperwork ready and check into another book for Tracy. I think I might see if I can find a decent art program too, that is definitely her thing! "Train up a child in the way she should go." So I guess art and dancing is that way - the joys of a creative child!!!