Here is what arrived at my house and I had already chosen some Teresa Collins Vintage papers to use, plus a few fall items from my local Michael's store.
And this is what I created...
Step 1: Cover the boards with paper of choice.
Step 2: Paint the edges of the board and the paper to give them an antiqued feeling.
Step 3: Adhere strips of paper and burlap for interest.
Step 4: Adhere Bingo cards and large daisy.
Step 5: Fill in with leaves, other flowers, and pumpkins.
Step 6: Add the pearls and words.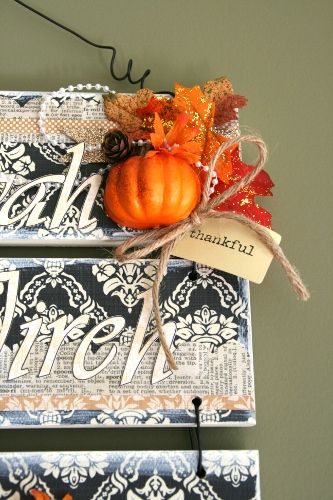 I love the colors of fall, but more than anything I love the time we take as Thanksgiving draws near and the end of another year to focus on the goodness of the Lord in my life. When I saw these bingo cards I knew that I wanted them to be incorporated into my project as I am filled with Gratitude for all that God has done, I am Blessed beyond anything I could have ever dreamed and it is all because God loves us. Jehovah Jireh is Hebrew for God is my Provider, this name of God is first introduced in Genesis 22. For my family and I this is who the Lord has been this year to us - our Provider.