I wanted to create a few projects for around the house for Valentine's so I began looking around for some inspiration. My first piece I decided on was the Subway Art piece that I downloaded from the Silhouette site. I chose to turn my canvas around to give a shadow box feel because I love the feel of banners and wanted to create some to drape around the art piece.
Kiss Me: Bouquet Kisses, Love Notes, Alpha+Bits
Designer Tape: Teal Stripe
I then began to make some roses for a topiary; for this topiary using a 5" Styrofoam ball I used 9 sheets of paper and cut my flowers out at 2 1/2" each I used hot glue to hold each flower quickly and easily.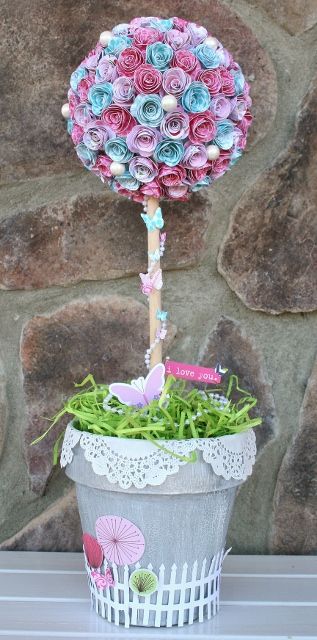 Sophisticates: Punch, Ice
Lovey Dovey: Love is in the Air
Kiss Me: Bouquet Kisses, Love Notes, Borders
Birthday Girl: Dancing Queen
My final piece of decor was a candy jar to hold my favorite treat - m&m's! I knew I wanted to use the cute mustache and lips from the Kiss Me collection and pinwheels are always fun touches. With the addition of a doily and a few pieces from the various Bella collection we have an adorable candy jar that I might decide to share with my kids - not quite sure about that one yet!
Kiss Me: Love Notes, Borders & Cute Cuts, Alpha+Bits
Ciao Chip: Stars & Hearts
Button Market: Hot Pink Flowers
Make sure you stop by the
Bella Blvd blog
to see some other great Valentine projects!