Welcome to our fun blog hop that a few friends are participating in. We are sharing a few facts about us and tagging a few other crafty bloggers that we think will blow your mind!
1. What am I working on right now: I am getting ready to dig into some GDT spots and the beautiful goodies they sent me. Both of these spots are in September so I can't share anymore YET... I am also catching up on my final weeks of PL for my book, I will be sharing most of those next week.
2.
How long does it take to create a project: I usually create multiple pages at once. I like to lay pictures with papers when I first open up a kit and then as I work on the first page, I can put pieces on the next layouts, leftovers/fussy cut pieces/etc... It usually only takes me a little under an hour to really get the layout done, BUT, I always leave my page out so that I can come by and look at it and see if anything else is needed. Sometimes I realize the layout is great, sometimes it is missing something and then I can add in that little bit, or sometimes I realize I missed the boat and need to tweak! LOL
3. What are my fave things I love to create with at the moment: I love to create with GOLD! I love enamel dots. I love journaling cards. I love bits & pieces.
4. How does my writing/creating process work: I always begin by grabbing photos I want to scrap and then finding papers/products that tell my story. I am a story scrapper so each piece I pick must further the story, colors, elements, even the design. I usually assemble a block with my photo and other main focus of the page next. This block can look very different depending on what I am scrapping, but there is some sort of it on all of my pages. I then begin embellishing, first the main embellishments that further my story and then bits and pieces that bring my viewers eyes around the page. I leave my journaling until the end so that I can use it to balance my layout; I always draw a few lines with my ruler and journal on these because they don't change the design of my page, just add weight as needed.
5. How do I become inspired and stay inspired: I have been so blessed with many opportunities for gorgeous products to just show up at my door. When I see the colors and pieces I just instantly have a need to add my memories to the beauty. I snap pictures constantly and staring at all the fun my kids have also inspires me to tell OUR story, and to focus on all the blessings on my life, even when the everyday hits.
6. What is my signature style: White space! I love using patterned paper or white cardstock as my base, but I like plenty of room left on the page to breathe, this is just who I am in life too. I get upset when things are too hectic or busy, so you will always be able to breathe on my pages, hopefully you sense peace on my pages and enjoy that too.
Here is a page I created for myself (I do this each month thanks to Corrie Jones), in these pages I create with my favorites with complete freedom to just create. Here I used my favorite colors (gold, aqua, coral), favorite embellishments (stars, dots, fussy cut items), and a saying that is me. (This page was first shared at Wilna Furstenberg's blog.)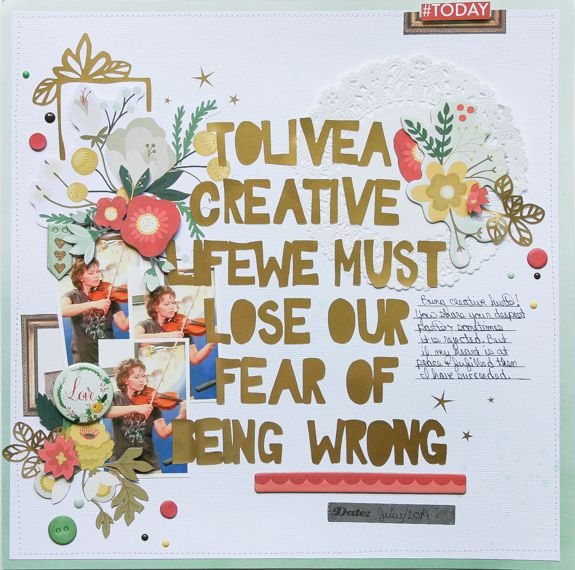 And I also participate in PL so here is what I made with the leftovers from the above page. See I told you I like to multitask, lol!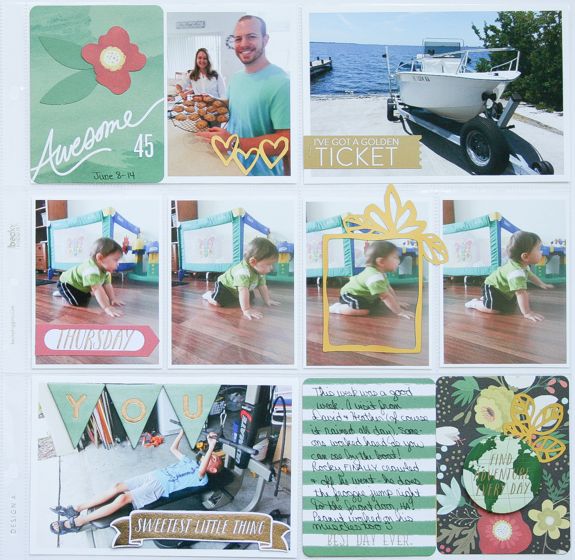 Are you ready for some more inspiration?
First of all, make sure you visit Leanne's blog,
Our Little Family
, she is the queen of 8.5x11 layouts and Project Life (and she shares amazing photography/editing tips with Sassy Scrappers). I am so fortunate to get to work with Leanne through Bella Blvd. Thanks Leanne for tagging me and sharing your bloggers.
Next up is my friend Suzanna that I met from our year at Pebbles. Suzanna, will blow your mind with her Core'dination skills - she makes this paper just work for her and I am always amazed at what she dreams up. She also designs for The Twinery and Imaginisce. Suzanna's blog can be found here at
Life's Trivialities
, I can't wait to see what she shares with us today!
My next crafter is just that, an all around crafter. She creates amazing layouts, cards, and crafty projects. I have never gotten to meet this person or be on a team with her, but her style just blows me away and I want to make sure you all, my readers find out about this amazing woman! Welcome Jaya from
My Craft World
, thank you for sharing with my readers, I know they will be just as impressed as I am at your mixed media gorgeousness!
And finally, is my dear friend Alissa! I had the pleasure of creating with Alissa at Memorable Seasons on the DT there. This scrappy friend is pure craziness and she makes me LAUGH! She creates gorgeous amazing cards that are so elegant and then she turns around and creates layouts with pictures and titles that make your eyes go big and then laugh. So head on over to her blog,
Will Run for Stamps
, she will make you smile I promise!
Thank you all for stopping by, I love knowing that you've been here. Those of you that leave me comments, you make me smile so thank you for taking time to leave your thoughts for me. Have fun hopping to my friends don't forget to follow their blogs/facebook pages/instagram feeds so you won't miss out!
You can always find me here at my blog daily(feedly and bloglovin links are on the sidebar)