Can you believe it is April? Where is 2012 going? It is so warm and sunny here and has been for almost a month now - I'm looking forward to the month and all that might happen, how about you?
Do you have people in your life that have made you laugh over things they've said, like maybe an uncle with a great sense of humor? Have your kids said things that made you laugh, and even long after it's said, you still giggle about it? If you answered yes to either of those questions then you're going to like this challenge!

I think God has given us a sense of humor because He knew there would be days that we'd need a good laugh and He also placed people in our lives to provide that chuckle! This month's challenge is asking you to create a project that focuses on the people in your life that brighten your day with their silly side. More specifically, the funny things they say. It can be something they've said once or something they say on a regular basis. The beauty of this challenge is that you don't have to have a particular photo of the person doing something funny, all you need is a photo of the person who's made the funny comment. The journaling will tell the story!

So let's have some fun showing how God has blessed us with the humorous things the people in our lives have said and in so doing, provides the laughter we need to brighten our days!

Scrap twist: Use baker's twine on your project.
Scrapbook Circle is a monthly kit club that designs a unique scrapbooking kit each month filled with the most current scrapbooking products. We choose products we love and know you will love too. We also include a custom Scrapbook Circle Printable with each of our kits.

You do not need to commit to a subscription to receive our kits. You can buy one kit at a time. If you would like a discount on kits, just commit to purchase 2 kits.
So here is the layout I created about our son - I wanted to document this stage as he is growing up so quickly and already moving on to new things.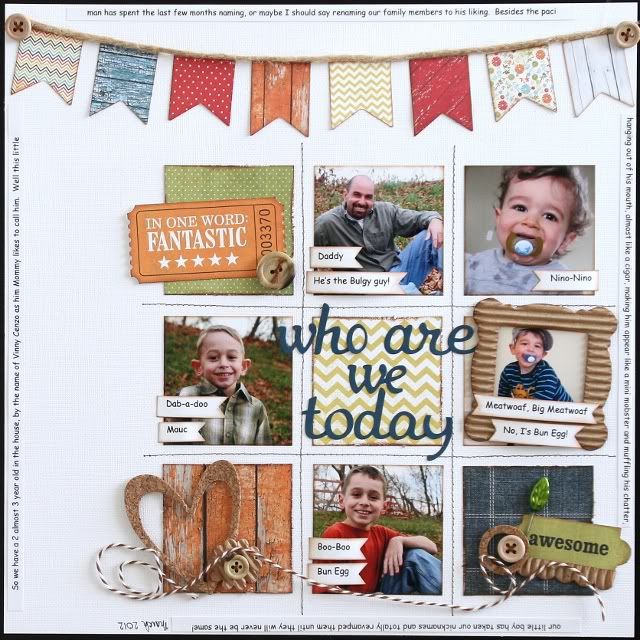 Materials Used: My Minds Eye, Pebbles, Maya Rd, Sizzix
The journaling reads: So we have a 2 almost 3 year old in the house, by the name of Vinny Cenzo as his Mommy likes to call him. Well this little man has spent the last few months naming, or maybe I should say renaming our family members to his liking. Besides the paci hanging out of his mouth, almost like a cigar, making him appear like a mini mobster and muffling his chatter, our little boy has taken our nicknames and totally revamped them until they will never be the same!
Make sure you stop by and enter for a chance to win the awesome prize at Scrapbook Circle!